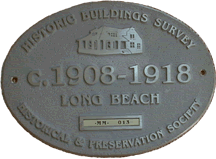 The "Estates Club" is a fellowship of the Society created for owners of architecturally distinctive houses in Long Beach.
Phase I: 1908 to 1919
Houses built during this phase of development are generally large villa-style formal homes with red-tile roofs and stucco facades which met the covenants established by Senator William Reynolds. They are an historic reminder of his ambitious " planned community" which was designed to meet the summer vacation needs of his wealthy clientele. The red brick road of Penn Street that fronts our Museum and runs one block east and west of it is another example of the Senator's clever engineering feats that remain with us today.

Phase II: 1919 to 1929
The houses built during this "playful" era following World War I are mostly of the Moorish Revival architectural style. They can be found throughout the central and eastern neighborhoods of our city. Their roofs continue to be covered in tile, but include many with fanciful colors that reflect the mood of the times. Their lot size is somewhat smaller than the prior phase and that is reflected in the placement of the garage built directly into the structure of the house.

Phase II(a): 1917 to 1929
This special phase of building created two very unique neighborhoods in Long Beach— the West End and the Walks. The homes in these areas are largely bungalows such as the Bossert, California and Pennsylvania styles. Spanish Stucco and Tudor Style houses built during this period are also found throughout the West End. All qualify for Estate Club membership and plaquing as part of the Society's Long Beach Historical Building Survey.
Phase III: 1930 to 1939
The substantial-looking brick Georgian and Tudor houses that are seen throughout Long Beach were built during what has been called Long beach's "stockbroker period." The architecture of these homes was a significant departure from the buildings erected during the previous phases of the City's development.
Eligible home owners may join any phase of the Estates Club. Special Workshops and Programs are given by the Society for owners who want to learn more about their homes. Workshops will be announced via post card to all "Estates Club" members. Please call 516 432-1192.